Volunteers work towards job qualifications on the Caldon Canal
Submitted by

Steve

on 17 February 2015, 2:55 pm
A group of volunteers are being encouraged to gain new skills and work towards a level 2 qualification in Work Based Environmental Conservation, accredited by City & Guilds. There are currently 10 volunteers aged from 16 to 20 who attend 3 days a week, working on various tasks on the Caldon Canal.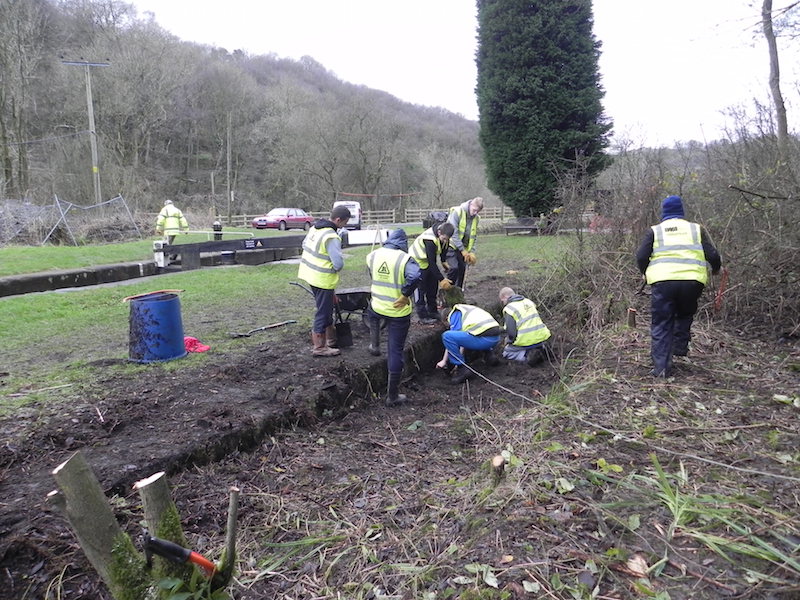 As part of their course volunteers have undertaken a social action project, in which they received a budget to plan, develop and deliver a project to improve the canal for the local community. This was done through a workshop whereby they identified possible areas where the project would be for the benefit of the local community. A number of ideas where generated and it was decided by the group, to work on an old lock which had been reclaimed by woodland and vegetation.
The volunteers cut down trees which were used to create a barrier at the back of the lock, all other brash was used to create habitat piles. Soil and other vegetation has been removed to reveal the old stone work. The volunteers also identified an area which can be cleared of vegetation to install a bench as a rest area for the community. The group have chosen a bench that was made by prisoners from Stoke Heath prison who use reclaimed locks from CRT and make benches and bird boxes with them.
The project runs alongside the Churnet Valley Living Landscape Partnership project and is supported by vInspired and Green & Blue Futures, an Interreg IVB-funded project looking at ways to manage Europe's nature sites, parks, open space, woodlands & waterways in a more cost-effective way.