Uttoxeter Canal October update
Submitted by

CUCT

on 8 October 2019, 11:03 pm
Dear all
In my email last month I mentioned the fish pass project at Crumpwood Weir, which was completed a few weeks ago. We have since visited the site and the picture below shows not only the completed project but also of course a very short section of the Uttoxeter Canal back in water for the first time in many years.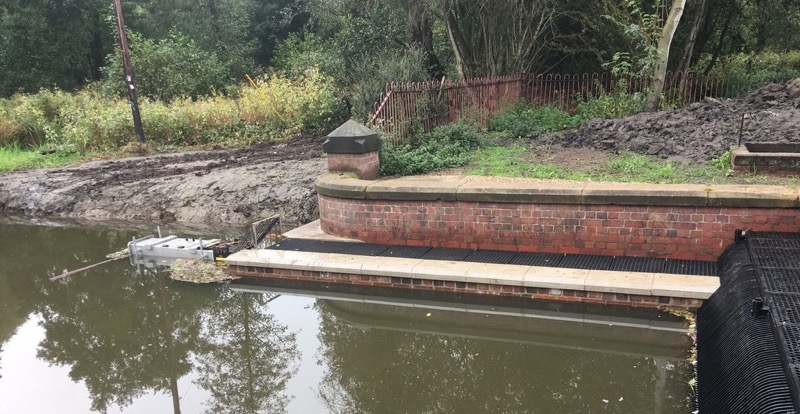 Fish Pass in September 2019 - Photo Steve Wood
The grey box contains a fish counter. We understand that this will not be a permanent feature. The line of the Uttoxeter Canal ran parallel to the fence, between this and the telegraph pole, though note that the canal closed more than 50 years before the pumping station was constructed.

The Crumpwood visit took place while we were in the area with the Waterway Recovery Group, as part of preparations for next month's "Bonfire Bash" along the line of the canal, mostly between Alton and Bridge 70. We have identified the areas where around 60 volunteers will be working for a weekend, carrying out a range of tasks which will help us in our vision of completely reopening around a mile of towpath from Alton to Crumpwood. These preparatory works are primarily about opening the site out so that we can access it more easily to reinstate missing and damaged sections of the towpath at a later date.
A number of people have asked about walking beside this section of the canal. Whilst it is certainly much more accessible than even a year ago, it is not presently safe for pedestrians to walk from end to end as part of the towpath, roughly half way along this length, has been completely washed away, but are working to make it possible as soon as we can.
Our next volunteer work party on the Uttoxeter Canal will be at Crumpwood on Thursday of this week, 10th October. This will give volunteers a chance to look at the fish pass site for the first time since the contractors left. Our group will clearing vegetation regrowth between Crumpwood Weir and Carrington's Lock, hoping to make the site look attractive for visitors now that we are able to access the area again.
The work party is jointly led by the Inland Waterways Association North Staffordshire & South Cheshire Branch and Caldon & Uttoxeter Canals Trust. No parking is available at site so please meet at 9.30am at Denstone Village Hall, College Rd, Denstone, Uttoxeter, Staffordshire ST14 5HR for a lift, or meet on site at Bridge 70 at 10am having made your own way on foot. The site is a little over a mile walk down the old railway track from either Denstone or Alton. When you see the newly laid section of towpath, walk down this to the bridge.
Please let me know if you are planning to attend. You can reply to this email to confirm your attendance or if you have any questions.
Finally can I apologise to those of you who were planning to attend the work party last month, in particular to Rupert who agreed to step in with less than 24 hours notice to lead when I had to drop out, to Judy and anyone else I'm not aware of who took the time to come out to either Crumpwood or Alton in vain. The additional problem caused by my using a courier to get the gate key to Rupert certainly did not help when he could not find where he was meant to be delivering it to, which resulted in Rupert being late arriving at site. It was a very difficult combination of circumstances and I've taken steps to ensure that this cannot not happen again.
Best regards
Steve