Uttoxeter Canal September update
Submitted by

CUCT

on 10 September 2019, 6:38 pm
Dear all
On Thursday of this week, 12th September, we will be back at Crumpwood continuing the work we have been doing in recent months around Bridge 70, clearing vegetation and keeping the area tidy.
This will be our first visit since the completion of the fish pass at nearby Crumpwood Weir. The picture below shows the site a few weeks before completion. The fish pass is the concrete construction to the left of the inlet grating and runs underneath the pumping station exiting to the right of the building as seen here. The line of the Uttoxeter Canal originally ran directly in front of this building (though the canal had closed some 60 years before it was built) so the fish pass project has technically rewatered a very short stretch of the canal which had been silted up for many years.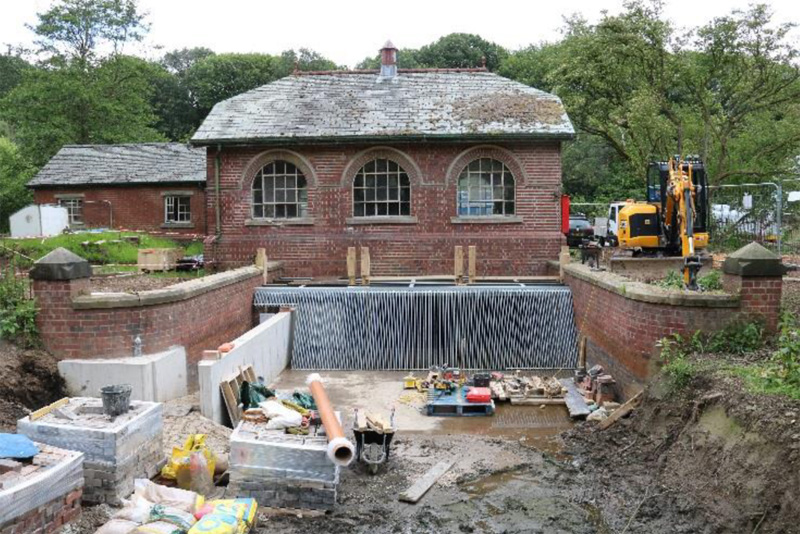 Fish Pass in July 2019 (photo from Environment Agency partner newsletter)
You may be interested to see this Twitter video from the Environment Agency, showing the moment that water was let into the pass for the first time or this one of the first fish through the pass, shortly afterwards. Why not come along to our work party and take a look at this site as well as giving us a hand a short distance away at Brige 70?
The work party is jointly led by the Inland Waterways Association North Staffordshire & South Cheshire Branch and Caldon & Uttoxeter Canals Trust. No parking is available at site so please meet at 9.30am at Denstone Village Hall, College Rd, Denstone, Uttoxeter, Staffordshire ST14 5HR for a lift, or meet on site at Bridge 70 at 10am having made your own way on foot. The site is a little over a mile walk down the old railway track from either Denstone or Alton. When you see the newly laid section of towpath, walk down this to the bridge.
Please let me know if you are planning to attend. You can reply to this email to confirm your attendance or if you have any questions. Do share the word to anyone you think might be interested in joining us. It would be great to get a few new volunteers on board as we move into autumn, which is always a busy and productive time for us.
In October we will be returning to Alton, doing some preparatory work in advance of a visit from the Waterways Recovery Group over the first weekend of November. This will be the third time we have hosted the "Bonfire Bash," as it is affectionately known, and is always a great opportunity to move our project on quickly. More of this nearer the time though.
Best regards
Steve