Uttoxeter Canal June update
Submitted by

CUCT

on 10 June 2019, 11:48 am
Dear all
I'll start with some important, if disappointing news. Unfortunately the June work party is cancelled as we do not have a work party leader available. Apologies to our regular volunteers and anyone else who was thinking of attending this month. I'm afraid that work commitments mean that I am not available and on this occasion have not able to arrange cover. We were hoping to continue the work around Bridge 70, where we have made good progress at recent work parties with clearing vegetation on the offside of the canal.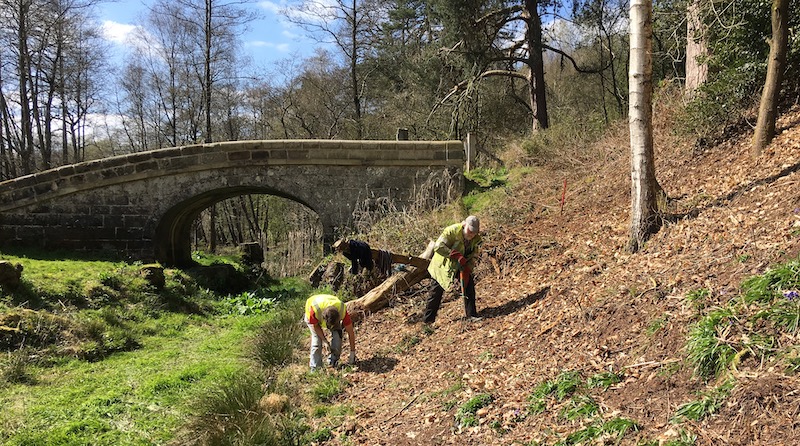 You might want to compare the above image with the one in the March newsletter.
However I'm pleased to say that we have good news to report elsewhere. The installation of mileposts is now complete and the dedication plaques for these will shortly be added at each site. The near-completion of works on the A50 at Uttoxeter means that this section of path is reopening and we will shortly be able to publicise the route of our new milepost trail, meaning that walkers will be able to explore the line of the canal all the way from the Churnet Valley into Uttoxeter. More of this in future newsletters.
At Crumpwood Weir, a project led by the Environment Agency to create a fish pass under the old pumping station is nearing completion. We have been invited to a meeting to look at the works and will no doubt have more information in the next update.
Upcoming work parties
Our next work party will be on 11th July, then we will, as usual, skip August while people are on holiday. Our normal schedule will resume on 12th September and on the second Thursday of each month thereafter. If you are interested in attending or indeed volunteering to lead future work parties please get in touch, using the details below.
Contact: Steve Wood
Tel: 07976 805858
Email: steve.wood@waterways.org.uk
Best wishes
Steve