Etruria to Hazlehurst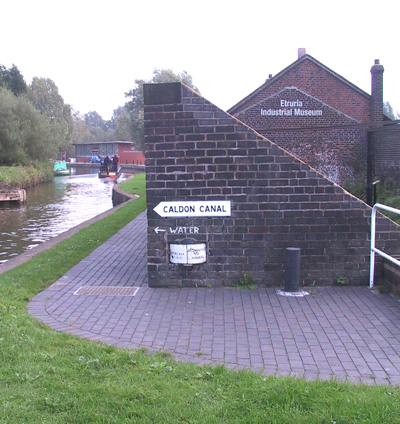 Visitors to the canal leave the Junction and the Industrial Museum and after passing the statue of James Brindley almost immediately encounter Bedford Street staircase. The sides of the upper of the two locks clearly illustrate the problems of subsidence caused by extensive coal mining in this part of the city. The lock sides were repeatedly raised until eventually a new lock had to be added as a more permanent solution. The high towpath between the staircase and Planet Lock are also a consequence of this problem.
Hanley Park recently had very pleasant visitor moorings added and events are often held in the park on summer weekends. This is also the closest place to Hanley city centre on the Caldon Canal that has good moorings.
The next stretch is primarily industrial, but not without interest. Note the numerous potteries along the stretch through Hanley, with bottle kilns clearly visible at several points. Many of the former pottery sites have recently been demolished and the canal is becoming a focal point for regeneration of this part of the city.
A small fleet of purpose built boats, the best known of which was the "Milton Maid" carried pottery until just a few years ago between two factories of Johnson Brothers, one close to Ivy House lift bridge and the other just before the Foxley Arms public house in Milton. Sadly the factories closed but the last Milton Maid survives, now used as a work platform at Streethay Wharf on the Coventry Canal.
The right angle bend at the Foxley Arms indicates the start of a long lost branch of the canal. A point of interest in this location is a small stream, the banks of which are shored up by the remains of a couple of old working boats.
Leaving Milton behind, the canal heads through Engine Lock towards a short feeder at Norton Green where it leaves the valley of the River Trent and heads towards the summit. Five locks at Stockton Brook lift the canal to its summit level.
Just before Endon Basin and the private moorings of Stoke-on-Trent Boat Club a strange circular object is encountered mid-channel. This is the remains of a swing bridge for a light railway which once crossed the canal.
At Fine Feathers farm, provisions may be obtained. you might also see one or more of the rare breeds or unusual animals kept on this organic farm. don't be too surprised if an ostrich or llama peers over the hedge at you! Good services are available at Park Lane.
This is the last facility on the summit level, though there is a water point at Consall Forge and full facilities at Froghall Basin (for those who can make it through the tunnel.)
The stretch from Endon to the junction at Hazlehust is very rural, with good views across the valley towards the Peak District.